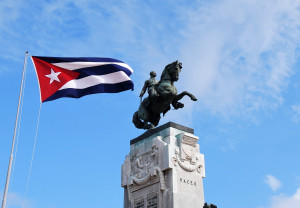 Cuba is a country unlike any in the world, and for many years KBOO Community Radio has reported on its complicated history, politics, and culture.
Today we invite our listeners and supporters to join us from December 3 – 10, 2022, on our premier, all-inclusive week-long tour of this distinctive island country. Utilizing our extensive contacts and expertise, we've designed a very special, customized trip that will allow you to experience this fascinating society in a way few have before.
Our tour will take us from Havana to Cienfuegos to Trinidad, Cuba, where we will meet with distinguished sociologists and political scientists from private think tanks, visit museums with renowned curators and art historians, and enjoy Cuban music at private concerts with prominent jazz, classical, and trova artists.
We will attend exclusive performances at the country's private ballet and flamenco studios, hear the stories of Afro-Cuban and LGBTQ activists, visit the private studios of celebrated artists, discuss recent changes to the economic system with private business owners, and drink and dine at the new paladars (private restaurants), recently authorized under Cuba's new constitution.  
Your journey will be hosted by Charles Bittner, who has brought hundreds of American writers, academics, musicians, artists, and physicians to Cuba.

Charles has taught sociology at St. John's University in NYC and at Southern Methodist University in Dallas, where his work focused on Cuban culture.

Throughout the week, you will also be accompanied by a highly-educated, bilingual, and experienced Cuban tour guide. 

 


 
The all-inclusive cost of the December 3 - 10, 2022 week-long tour, is $3,985 per person (double occupancy) or $4,485 (single) and includes:
> five nights at private accommodations in Havana

> two evenings at a private guesthouse in Trinidad

> health and evacuation insurance

> all ground transportation within Cuba

> guided tours, seminars, lectures

> entrance to Cuba's preeminent museums and attractions

> several private music concerts and dance performances

> all your meals , including libations

> and many other captivating activities and events!
Space Is Limited!
Travel to Cuba is authorized under a general license: Support for the Cuban People.
A portion of the proceeds will help support KBOO!