Air date:
Wed, 10/27/2021 -

8:00am

to

9:00am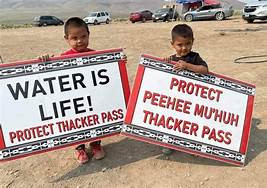 More Images: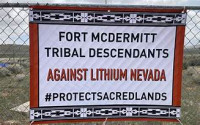 Thacker Pass is the latest site of Indigenous-led resistance against extractivism
Thacker Pass, or Peehee mm'huh, is sacred land to the Northern Paiute and Western Shoshone, and critical wildlife habitat. It is the site of a proposed lithium mine by Lithium Americas, a Vancouver, Canada-based company. They want to mine 5,000 acres using an open pit which would be roughly one mile across and two miles wide. The mine would burn around 11,300 gallons of diesel fuel per day. It would provide up to 25% of global lithium supply to feed the growing demand for the so-called "green" battery technology, largely for the new generation of electric cars.
People of Red Mountain is a group of tribal descendants from the Fort McDermitt Paiute Shoshone tribe who want to collectively stand up against destruction of land, water, air and life on ancestral homelands such as mining projects like Thacker Pass. They have established a water and land protectors camp near the proposed lithium mine. Read their statement against the lithium mine here.
Two of the group's members, Daranda Hinkey and Gary Mckinney, are the guests on today's program. Hinkey, a recent graduate in Environmental Studies and Policy from Southern Oregon University, is also a Tribal Partnerships Associate withy the Lomakatsi Restoration Project, which is dedicated to restoring ecosystems and the sustainability of communities, cultures and economies in northern California and southern Oregon. McKinney also belongs to the Western Shoshone-Northern Paiute People and is a member of Northern Nevada Chapter of the American Indian Movement.
For more information:
https://www.protectthackerpass.org/
https://www.hcn.org/issues/53.3/indigenous-affairs-mining-nevada-lithium-mine-kicks-off-a-new-era-of-western-extraction?fbclid=IwAR0-UnuWbbr-p40NQPkZIV-PRZQ3RBkYQl_egyh13G4y7-VrSVnwnJ5oSRU
https://www.nevadacurrent.com/2021/09/16/will-thacker-pass-be-another-keystone/
https://www.thenation.com/article/activism/thacker-pass-mine-protest/
https://wildidahorisingtide.org/2021/10/01/halt-the-thacker-pass-nevada-lithium-mine/
https://www.nevadacurrent.com/2021/08/28/tribes-seek-pause-on-development-of-lithium-mine/
https://www.opb.org/article/2021/10/05/tribes-new-evidence-proves-massacre-was-at-nevada-mine-site
Update Required
To play the media you will need to either update your browser to a recent version or update your
Flash plugin
.
Download audio file