Air date:
Tue, 02/07/2023 -

11:30am

to

12:00pm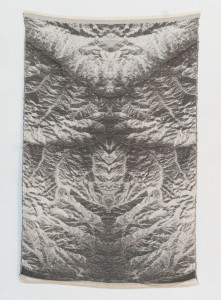 More Images: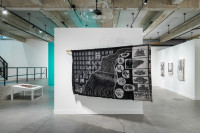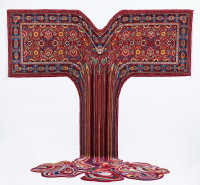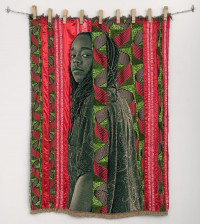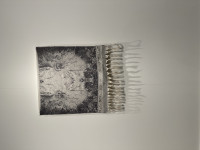 Artists Shelley Socolofsky and Vo Vo talk weaving
On Tuesday, February 7, 2023, at 11.30am Joseph Gallivan interviews artists Shelley Socolofsky and Vo Vo about their work in the group show Weaving Data, which is on now through April 29 at Portland State University.
Vo Vo, who is an anarchist, talks about their tapestry depicting ideas from the Everett Mill strike in Lawrence Massachusetts in 1912, and Socolofsky discusses the link between melting ice caps and glaciers, shrouds and obscure data. Socolofsky also discusses the Thread Controller 2 (TC2) digital/analog loom from Norway which has had a big impact on fiber arts in the last few years.
This interview was recorded on Feb. 1 and 2, 2023, using Zoom videoconferencing software and engineered by KBOO volunteer Ray Bodwell. https://kboo.fm/blog/55224
FROM THE PRESS RELEASE:
Jan 24 – Apr 29, 2023 
Featured Artists: Faig Ahmed, April Bey, Jovencio de la Paz, Ahree Lee, Kayla Mattes, Shelley Socolofsky, Joan Truckenbrod, Vo Vo, and Sarah Wertzberger
Overview: Digital computing is deeply connected to weaving. The Jacquard weaving process, first demonstrated in 1801, gave instructions to a loom using holes punched in paper cards—an early form of binary code. Charles Babbage's Analytical Engine (1834), the blueprint for modern computing and algorithms, borrowed elements of its design from the Jacquard loom. One element was the punch card, which remained a primary medium for programming and inputting data to computers into the 1980s.
High technology's roots in the Industrial Revolution may explain some of the biases and challenges currently facing the industry. Historically, narratives of industrialization have minimized the contributions of women, low-wage laborers, and people of color. This same habit of erasure now plays out in high tech's origin myths and frequent failure to cultivate inclusivity in education, hiring, and product design.
The artists in this exhibition investigate the complex relationship between weaving and computing. Some use data analysis, while others use metaphor. Some collaborate with computers to make their weavings; others weave by hand, but use data or internet memes as a basis for woven patterns. Regardless of approach, these artists remind us that we all have a say in deciding which technologies and cultural values we choose to elevate.
Curated by Theo Downes-Le Guin and Nancy Downes-Le Guin
Exhibition, education, and outreach programs have been made possible by a grant from The Ford Family Foundation. 
This exhibition is supported by the Oregon Cultural Trust.
More Information: https://sites.google.com/pdx.edu/weaving-data/weaving-data
https://sites.google.com/pdx.edu/weaving-data/brochure
Museum Hours:
Tuesday:           11 am – 5 pm
Wednesday:     11 am – 5 pm
Thursday:         11 am – 7 pm
Friday:              11 am – 5 pm
Saturday:          11 am – 5 pm
Sunday: Closed
Monday: Closed
Shelley Socolofsky
Assistant Adjunct Professor/ Textiles
Portland State University School of Art + Design
Some of Vo Vo's projects
http://vovovovo.weebly.com/objects.html ANTI-RACIST TRAUMA-INFORMED CARE:
Vo Vo on antiracism and trauma
http://vovovovo.weebly.com/uploads/1/2/4/1/124198454/anti-racist_tic_org...
The TC2 loom
The Thread Controller is modular, and therefore easy to configure and reconfigure. New and optimized production methods as well as detailed control and testing have made the Thread Controller a flexible and dynamic design tool, ideal for rapid prototyping.
THE BIG WINTER ASK
Did you notice KBOO was off the air for a power outage during the storms just before Christmas? Since then, we are playing recorded shows only. A new UPS (uninterrupted power supply) will help us stay live on the air, but it adds to our bills. Can you help us pay for it to keep live programming on the air?
KBOO Radio is a volunteer-run nonprofit, and it needs your money if you are listening.
Donate to KBOO right now during our Membership Drive here   https://secure.givelively.org/donate/the-kboo-foundation .
Show your support for KBOO programs like Art Focus by becoming a member of KBOO today.
Go to kboo.fm/give, or you can donate by texting K-B-O-O to 4-4-3-2-1. It's our members who make KBOO possible so donate today. Thanks for tuning in and thanks for listening to volunteer powered, community supported K-B-O-O Portland.
To hear previous episodes of Art Focus or any of our KBOO public affairs programming, just go to KBOO dot F-M or listen on iTunes, Google Play, or wherever you get your podcasts.
Joseph Gallivan has been a reporter since 1990. He has covered music for the London Independent, Technology for the New York Post, and arts and culture for the Portland Tribune, where he is currently a Feature Writer. He is the author of two novels, "Oi, Ref!" and "England All Over" which are available on Amazon.com
Update Required
To play the media you will need to either update your browser to a recent version or update your
Flash plugin
.
Download audio file