Air date:
Sat, 05/16/2020 -

12:00am

to

3:00am
More Images: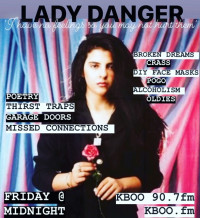 a tribute to to Peter Greenaway
A "clarion call" for all lovers of good music and alternative shtuff.. also, some Irish comedy!
Yall, i tried really hard, but the playlist is backwards-- start at the bottom for list of songs.
Poems and Spoken words include: Edger Allen Poe, Hardy Bucks and of course, my dad, Jello Biafra. 
25. Cannabis Corpse "full album" from Nug so Vile on Season of Mist
24. set to destroy "scrape my pipe"
23. set to destroy "toke, thrash, beer"
22. Princess Nokia "orange blossom"
21. Chet Baker "Almost Blue" from Chet Baker in Tokyo (The Complete Concert) on CHET BAKER ESTATE. Genre: Jazz
20. Daniel Johnston "Devil Town" from 1990 on Eternal Yip Eye MusicOmega Tribe "album" from Angry Songs
19. The Apolitical "stop think and pogo"
18. Cheeseburger "commin home"
17. UB40 "Kingston Town" from Greatest Hits on Virgin Records
16. Silver Mt. Zion "13 Angels Standing Guard 'Round The Side Of Your Bed" from He Has Left Us Alone But Shafts of Light Sometimes Grace the Corner of Our Rooms on Constellation
15. Grover Washington, Jr. & Bill Withers "Just the Two of Us" from Winelight on Rhino/Elektra. Genre: Jazz
14. Fugazi "I'm so tired" from Instrument on Dischord
13. xit-Stance "full album" from mankind's hand
12. instigators "full album" from the Blood is on your hands on Skuld
11. Slaves "The Hunter" from Are You Satisfied? on Virgin EMI
10. Pisse "Kohlrubenwinter"
9. Reek Minds "self titled EP"
8. Choas Uk "burning Britain EP"
7. mamma sani "five hundred miles". Genre: Electronic
6. Paul Anka "Put Your Head On My Shoulder  (As Made Famous By Paul Anka)" from Karaoke Hit Music Golden Oldies Vol. 2 - Golden Oldies Instrumental Sing Alongs on On-The-Go Music
5. John Cameron "Half Forgotten Daydreams" from Sound Gallery Vol. 1
4. Norma Tanega "You're Dead" from Halloween
3. First Aid Kit "My Silver Lining" from Stay Gold on Columbia
2. Black Moth Super Rainbow "I Think it is Beautiful that You are 256 Colors Too" from Start a People on Rad Cult. Genre: Electronic
1. Fatboy Slim "Praise You (Original Version)"