Air date:
Mon, 06/01/2020 -

9:00am

to

10:00am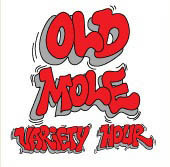 News, Views, Reviews, and Interviews from a Socialist-Feminist Perspective
Patricia Kullberg hosts this episode of the Old Mole Variety Hour, which includes these segments:
Pandemic Recovery, or Not: Bill Resnick speaks with Yeva Nersisyan, a progressive economist, in part 2 of a two part interview on the COVID crisis. In the first part they discussed the way the Trump regime has dealt with the economics of the crisis, by giving major corporations and finance great gobs of money but sending crumbs to the people. In Part 2 today they discuss the coming economy, very likely featuring considerable unemployment, evictions, homelessness, and families losing health insurance. They discuss the public programs necessary to support working people and the popular movements that will be necessary to force government action. Yeva Nersisyan is a Research Scholar at the Global Institute for Sustainable Prosperity and an Associate Professor of economics at Franklin and Marshall College.
Housing Precarity: Jan Haaken speaks with local housing activist Marih Alyn-Claire, a long term organizer with SE Portland Tenants in Action and the Portland Metro Poor People's Campaign. They discuss the worsening situation for local renters and the homeless as the public health and economic crises deepen.
World War Z: Movie Moles Denise Morris and Victoria Saucedo review the 2013 apocalyptic zombie movie World War Z, and the book by Max Brooks, of the same name, that it was based on. The one is a work of well researched and well written fiction which presents a serious sociopolitical indictment of the failures of both regular citizens and official government responses to a worldwide pandemic that throws in the zombie trope as a means to propel the story. The other is a fairly typical Hollywood blockbuster that bears almost no resemblance in pacing or storytelling to the weighty themes laced throughout the source material of the book, yet still manages to tell its own story in a jarring and semi-effective way.
To hear the whole show, use the play button below; to listen to separate segments, follow the links above.
You can follow us on Twitter (@OldMole) and Facebook (TheOldMoleVarietyHour). You can send us comments or questions by commenting below or emailing us at oldmolevarietyhour [at]gmail.com.
Update Required
To play the media you will need to either update your browser to a recent version or update your
Flash plugin
.
Download audio file