Air date:
Mon, 08/03/2020 -

12:00pm

to

12:15pm

More Images: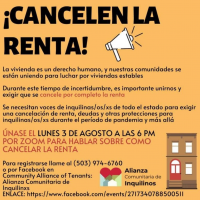 Noticias en español 08/03/2020
Breve Informativo sobre el COVID-19 de las últimas noticias locales, nacionales e internacionales sobre el COVID-19, relevantes para la comunidad latina de Oregon.
Hoy lunes 03 de agosto del 2020.  
Se han recuperado y sobrevivido al COVID-19, más de once millones 512 mil personas en todo el mundo. En Estados Unidos más de dos millones 382 mil, en Brasil más de un millón 884 mil, y en México más de 289 mil. Hay más de diez y ocho millones 314 mil casos confirmados de COVID-19, y han ocurrido más de 694 mil decesos, en más de 209 países y ciudades del mundo. En Estados Unidos hay más de cuatro millones 827 mil de casos confirmados, y más de 158 mil fallecimientos. En Oregón hay 19,097 casos y 326 personas han muerto.
https://www.worldometers.info/coronavirus/#countries y la Universidad Johns Hopkins https://bit.ly/3apVrrb
Durante el mes de julio, más de 8 millones de personas dieron positivo, casi tantas como en los primeros seis meses de la pandemia combinada. La Organización Mundial de la Salud informa que los casos ahora se duplican cada seis semanas.
En India, el número de muertos superó los 38,000, el quinto más alto del mundo, superando a Italia. Uno de los principales funcionarios de la India, el ministro de Asuntos Internos, Amit Shah, fue hospitalizado después de dar positivo.
Filipinas informó el domingo más de 5,000 nuevas infecciones por coronavirus, su mayor aumento registrado en un solo día, con un total de casos confirmados de más de 100,000. El presidente autoritario, Rodrigo Duterte, anunció que está reimponiendo un cierre más estricto alrededor de la capital Manila, ya que los trabajadores médicos de todo el país advirtieron que el sistema de salud podría colapsar.
En Australia, se ha declarado un estado de desastre en Victoria, que ha instituido un toque de queda nocturno para combatir el brote.
El coronavirus todavía está surgiendo en Sudáfrica, donde más de 500,000 han dado positivo en la prueba del virus. Los trabajadores médicos dicen que el aumento en los casos ha llevado al sistema de salud de Sudáfrica al colapso.
Un nuevo informe en Vanity Fair revela que un grupo de trabajo de la Casa Blanca dirigido por Jared Kushner abandonó un plan nacional de pruebas de coronavirus en la primavera por razones políticas. Un experto en salud pública en contacto frecuente con el grupo de trabajo oficial sobre coronavirus de la Casa Blanca dijo: "La gente política creía que, debido a que sería relegado a los estados demócratas, podrían culpar a esos gobernadores, y esa sería una estrategia política efectiva. "
Las negociaciones sobre el próximo proyecto de ley del estímulo del coronavirus permanecen estancadas. Los republicanos se niegan a apoyar la renovación de un programa para dar a los trabajadores desempleados un beneficio adicional de $ 600 dólares. El beneficio mejorado expiró el viernes.
El congresista demócrata Raúl Grijalva dio positivo por COVID-19, pocos días después de presidir una reunión a la que asistió el congresista republicano Louie Gohmert, quien se negó a usar una máscarilla y luego dio positivo. En una declaración, Grijalva dijo: "Si bien no puedo culpar a nadie directamente por esto, esta semana ha demostrado que hay algunos miembros del Congreso que no toman en serio esta crisis".
Mientras tanto, CNN informa que los republicanos están considerando prohibir a los periodistas por primera vez asistir a la próxima Convención Nacional Republicana reducida, citando preocupaciones de salud.
El domingo, la asesora de coronavirus de la Casa Blanca, Deborah Birx, apareció en CNN y advirtió que el país ha entrado en una nueva fase en su lucha contra la pandemia.
Dra. Deborah Birx: "Lo que estamos viendo hoy es diferente de marzo y abril. Está extraordinariamente extendido. Está en lo rural como áreas urbanas iguales. Y para todos los que viven en una zona rural, no eres inmune ni estás protegido contra este virus ".
Durante el fin de semana, California se convirtió en el primer estado en registrar más de 500,000 casos confirmados de COVID-19. California reportó 219 muertes el viernes, un nuevo máximo en un día. Mientras tanto, el número de muertos de COVID-19 en la prisión estatal de San Quintín ha llegado a 20. Esto se produce cuando más de 7,000 personas en el sur de California se han visto obligadas a huir de su hogar debido a un incendio forestal masivo al este de Los Ángeles. Democracy Now reporta.
El rastreo de contactos en estos momentos es la clave para mantener a Oregón abierto y saludable. Los equipos de las Grandes Ligas de Béisbol lo están utilizando para contener la propagación del coronavirus. Los funcionarios escolares dicen que el seguimiento de contactos es fundamental para proteger la salud de los estudiantes y maestros si regresan a las aulas en el otoño. En resumen, el rastreo de contactos se utiliza para identificar y aislar rápidamente nuevos casos de coronavirus y las personas con las que han estado para ayudar a retrasar la propagación de la enfermedad. En ausencia de una vacuna o un tratamiento efectivo, se considera una de las únicas formas efectivas para detener los brotes sin cerrar partes del estado. Oregon Live reporta.
Mañana comenzaremos la serie de segmentos de una entrevista que hicimos a la directora del programa de rastreo del Public Health Institute, Marta Induni.
Hoy lunes 3 de agosto, la Alianza Comunitaria de Inquilinos llevará a cabo una junta virtual por medio de Zoom a las 6 de la tarde, para hablar de cómo cancelar la renta. Esta organización dice que la vivienda es un derecho humano, y que las comunidades se están uniendo para luchar por viviendas estables. Especialmente durante los tiempos de incertidumbre que se viven actualmente con la pandemia del coronavirus. Para registrarse usted puede llamar al (503) 974-6760.
El 3 de agosto se celebra el Día Internacional de la Planificación Familiar, con el objetivo de que las parejas decidan el número de hijos desean tener, de acuerdo a su situación socioeconómica y personal. Para mayor información a cerca de esta celebración puede ir a https://bit.ly/2Pk49yP
| | |
| --- | --- |
| Redacción | Ivonne Rivero y Gloria Sánchez-Keeth |
| Edición | Gloria Sánchez-Keeth |
| Producción | Ivonne Rivero y Gloria Sánchez-Keeth |
Update Required
To play the media you will need to either update your browser to a recent version or update your
Flash plugin
.
Download audio file