Air date:
Tue, 02/23/2021 -

11:30am

to

12:00pm
More Images: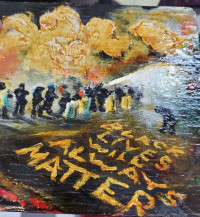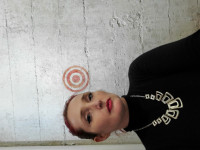 On Tuesday Feb. 23, 2021 at 11:30 a.m. in the third of her pandemic studio visits, Aurora Josephson interviews painter Alex Lilly about his new works depicting the Portland protests of 2020
On Tuesday Feb. 23, 2021 at 11:30 a.m. in the third of her pandemic studio visits, Aurora Josephson interviews painter Alex Lilly about his new works depicting the Portland protests of 2020, as well as his series The Death of the Antiquities. Lilly talks about police brutality, the destruction of art, conspiracy theories, and painting on doors found in dumpsters. He also reads from his poem about the summer's protests and "One-Six".  
To learn more about Aurora's series go to www.aurorajosephson.com/pandemic-studio-visits
More about ARL by ARL (Alex Lilly):

    Shortly after the Berlin Wall fell Alexander R. Lilly was the principal assistant to Jonathan Barofsky at the Berlin Metropolis show held at the Martin Gropius Bow Complex.
A.R.L attended the museum art school PNCA PDX and studied under the printmakers Tom Prochaska and Gordon Gilky.
A.R.L.'s selected prints are currently in the Portland Art Museum's permanent collection.
A.R.L. Fabricated, welded and installed Holocaust Memorial Fountain at Chapman University LACA. He performed Waterboarding art piece in protest to Guantanamo Bay detentions and Everett St. Lofts and Galleries. He held a printmaking residency at Angel's Gate Cultural Center San Pedro CA.
A.R.L. Showed two large scale paintings in a show titled Contemplating Apocalypse at the Los Angeles Brewery Art Complex: Tank on Fire Iraq and Humvee on Fire Iraq, Los Angeles Brewery Art Complex. He currently has a painting on display at the Brewery Art Complex 9'x8' which is a commentary on the end of our natural environment.
A.R.L. Was part of an antiwar art show at Track 16 Gallery within the Bergasmont Station Art Complex, Santa Monica CA. His art was selected for the library of congress permanent collection as part of a 911 Memorial Art Show through a Gallery called Exit Art 2001, NYC. Was part of a group show a Jane Carr Gallery 2007 showed paintings of Oil Well Fire burns and Middle East destruction.
A.R.L. Had a solo Art show at Mark Woolley gallery 2013. A.R.L. Was principal assistant to Jack Tafari for the Dignity Village Houseless Campaign. He also participated in a group show in 2004 for the Center for the Study Of Political Graphics in Los Angeles CA which also houses many of his works in their permanent collection.
A.R.L. Produced a series of sketches depicting workers during the fabrication of Anish Kapoor's Cloudgate which resides in Chicago IL. He currently has a large scale print of Mt. Hood on display at Timberline Lodge, OR. Produced the Death of the Antiquities show at Chaos Gallery PDX. Produced Riot Demonstration Series at Michael Parson's Fine Art. Produced Silhouetted Riot Police Prints for Rose City Cop Watch Benefit Show. Participated in multiple European music tours. 
Aurora Josephson is a musician and visual artist who currently resides in Portland, Oregon. Building on the foundation of operatic training and a BA and an MFA in Music Performance from Mills College, she has forged a bold vocal style that is uniquely her own. To unleash the limitless range of sonic possibilities in the voice, Josephson employs a variety of extended and unconventional techniques drawn from the worlds of contemporary composition, improvisation, and rock. She has performed and recorded with Alvin Curran, Gianni Gebbia, Henry Kaiser, Joelle Leandre and William Winant, and musical groups Big City Orchestrae, Flying Luttenbachers, The Molecules, ROVA Saxophone Quartet, T.D. Skatchitband and the Merce Cunningham Dance Company.
To hear previous episodes of this show or any of our KBOO public affairs programming, just go to KBOO dot F-M or listen on iTunes, Google Play, or wherever you get your podcasts.
Joseph Gallivan has been a reporter since 1990. He has covered music for the London Independent, Technology for the New York Post, and arts and culture for the Portland Tribune, where he is currently the Business Reporter. He is the author of two novels, "Oi, Ref!" and "England All Over" which are available on Amazon.com
This show was recorded in February 2021.
Update Required
To play the media you will need to either update your browser to a recent version or update your
Flash plugin
.
Download audio file