Air date:
Mon, 11/01/2021 -

9:00am

to

10:00am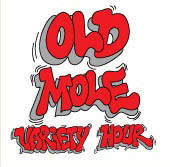 Views, Reviews, and Interviews from a Socialist-Feminist, Anti-racist, Anti-colonial and LGBTQ-positive Perspective
Patricia Kullberg hosts this episode of the Old Mole Variety Hour which includes the following segments:
Don't Quit, Organize! In Part Two of a two-part interview, Joe Clement talks with labor activist Eric Dirnbach about Strike-tober, the mass quittings and staff shortages affecting the American economy, and whether we're seeing what former Secretary of Labor Robert Reich has called "a disorganized general strike". Dirnbach's writing on some of this recently appeared on Organizing Work. To hear Part 1 of the interview go to: Don't Quit, Organize: Part One!
Oh William! The title of Elizabeth Strout's new novel, Oh William!, could as well have been called Oh Elizabeth! argues Book Mole Larry Bowlden in his review of Strout's latest. As she continues to describe the lives of Lucy Barton and others of her past characters, Strout once again shows how ordinary events in ordinary peoples' lives are always complex and quite extraordinary.
The Breakdown of Supply: Longtime labor activist and scholar Kim Moody argues in a recent article in the Guardian that while just-in-time supply chains were a boon to big business, they have contributed to rising prices, the squeezing of labor, and critical delays in delivery of goods. Patricia Kullberg reads an excerpt from "Why it's High Time to Move on from 'Just-in-Time' Supply Chains," published Oct 14, 2021. Moody was a founder of Labor Notes in the US and is the author of several books on labor and politics.
Can the Democrats Save Us? Bill Resnick talks to Norman Solomon, a nationally syndicated columnist who founded the organization Roots Action, which mobilizes behind policies that actually address the immense economic, social, racial and environmental problems facing our country, including Medicare For All, Green New Deal, cancelling student debt, cutting the military budget, and substantially raising the minimum wage. Bill and Norman discuss the Democratic Party, much of whose activist base supported Bernie Sanders and the radical version of the Green New Deal. They consider whether the Party's Progressive Caucus, with now over one hundred members in the U.S. Congress, can enlarge to take over the Party. They also  discuss whether this political force allied with the climate action and justice movements might be able to lead the reconstruction of the U.S. economy to meet the challenge of global warming. 
Update Required
To play the media you will need to either update your browser to a recent version or update your
Flash plugin
.
Download audio file