Air date:
Mon, 06/06/2016 -

5:45pm

to

6:00pm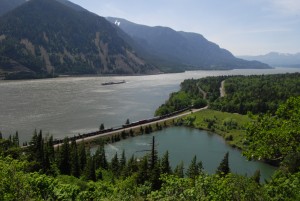 In 2008, the town of Mosier found an oil spill near the site of the recent crude oil train derailment
On Friday, June 3, a train carrying Bakken crude oil derailed in the small town of Mosier, Oregon along the Columbia River Gorge. Multiple rail cars caught fire within a few yards of the town's sewage plant, melting part of the sewage system and  leaving residents with a warning to boil water and a ban on indoor waste water, which means for residents no toilet flushing and no running water down the drain.
This isn't the first time the town of Mosier has had to deal with crude oil spills interfering with their sewage plant. When the town expanded the plant back in 2008, a large oil spill was discovered at the site. Since the town of Mosier couldn't prove who was responsible for the spill, the small town with a population of 400 was forced to take on the cost of the cleanup.
Check out the news report by KBOO's Jenna Yokoyama on Free Speech Radio News
Here's an excerpt of the interview with the mayor of Mosier,  Arelene Burns.
Mayor Arlene Burns: For example, our sewer treatment plant when that was rebuilt to be to DEQ standards, it turns out there was a crude oil spill underground that -- we couldn't prove it, of course, but it was most likely caused by a railroad accident a long time ago because it was right by the tracks, and it cost the city a half a million dollars in DEQ cleanup before we could even start on our sewage treatment plant. So we have tremendous debt that -- you know, it will be the rest of my lifetime -- we won't even have recovered from the debt and we have very few resources to help pay for these things. So it's an interesting story. I'm sure we're not the only ones who suffer this, but --
JY: -- So when you're saying by the sewage plant and this old oil spill was discovered, Union Pacific wasn't held responsible for the previous accident that had been discovered?
AB: No, they were not and because there was no way to specifically prove it even though, you know, it was the smoking gun, there was no way for us to prove that it wasn't some local that had just spilled, but it was a substantial spill. It wasn't minor. It wasn't somebody changing the oil in their car. And ironically, it was about at the same location of this crash.
We had no choice, you know, and we had to do, you know, spend this money that, you know, all of our money for water and sewer comes from our utility and it's specifically can only come from utilities. The water bill, sewer bill can only go towards the wells and only go towards the sewage treatment plant. So we have very -- I think they're high sewage rates -- and they go up each year three percent because it's sort of a monopoly who services the plant. And we're too small a town to have a sewage treatment operator as a full time employee because you would really have to have two because you have to have somebody twenty four hours on-call.
So it's a lot for a little town to try to do and we're trying to be a livable community for people of all income levels and -- but ironically the people who are the most affected are the residents of Mosier Manor. That is our trailer park.
JY: That was Arelene Burns, mayor of Mosier, Oregon. For the KBOO news, I'm Jenna Yokoyama.
Update Required
To play the media you will need to either update your browser to a recent version or update your
Flash plugin
.
Download audio file