Air date:
Mon, 12/03/2018 - 9:30pm

to

Mon, 12/17/2018 - 12:00pm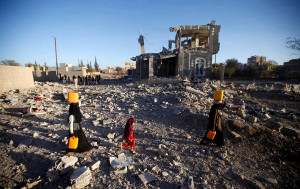 It's been WAY too long since we've done headlines, so we do our best to catch you up.  I break down the current situation in Yemen and discuss some updates, including the American contractors working as mercenaries there while Danny takes us back to the seventeen year old war in Afghanistan, showing the headlines missed during the week while the media was focused on a photo of the senior commander in Afghanistan carrying his rifle.
---
America Is Headed For Military Defeat in Afghanistan - Danny Sjursen - The American Conservative
Tank plant in Ohio that Trump "saved" - nothing in piece suggested he actually "saved" it.
1.3 million Iraqi children displaced by war with Islamic State
Al Qaeda commander gets numerous emergency surgeries while held at GITMO.
US exempts Iran's Chabahar Port from sanctions - helpful to Afghanistan's economy.
Iraq asks US to consider how sanctions will affect Iraq's economy / etc.
Marine veteran protests Leupold at Blazers game
Think Progress on Leupold protest
Second Saudi journalist tortured and murdered by Saudi authorities
The Ministry of Defense in the UK is being petitioned to stop recruiting 16 and 17 year olds.
Low IQ draftees were chosen after Vietnam leaders couldn't make numbers.
Rust costs 21 billion per year
Statistical connections between veterans and mass shooters
Army secretary says NCOs should visit barracks on weekends to prevent suicide
Hypertension linked to Agent Orange exposure
VA moving hundreds of docs from union admin spots back to providing care for veterans
1 in 5 generals couldn't deploy for medical reasons in 2016
There's a strong possibility that several of the northern Marianas Islands will become bombing ranges for the US Navy - ep from Chapo Traphouse
The Trump administration is demanding the Supreme Court immediately rule on the ban on transgender people serving in the military.
VA isn't providing benefits correctly to veterans with ALS
85k children under believed to have died in the war in Yemen - CNN
Trump may declare the Houthis a terrorist organization
Finland and Denmark have joined Germany in ceasing all weapons sales to Saudi Arabia over their war crimes in Yemen, along with the continuing fallout from the assassination of Washington Post writer Jamal Khashoggi
Yemenis killed in assassination by American contractors
---
Enjoy the show?!  Please leave us a review right here.
Contact us direct by email at fortressonahill@gmail.com
Leave us a voicemail at 860-598-0570.  We might even play it on the podcast!!!
Not a contributor on Patreon? You're missing out on amazing bonus content! Sign up to be one of our contributors today! - www.patreon.com/fortressonahill
A special thanks to our honorary producers Matthew Hoh, Will Ahrens, Gage Counts, and Fahim Shirazee!!  Without you guys, we couldn't continue our work.  Thank you so much!!!
Not up for something recurring like Patreon, but want to give a couple bucks?!  Visit Paypal.me/fortressonahill to contribute!!
Facebook - Fortress On A Hill
Twitter - Fortress On A Hill
Soundcloud - Fortress On A Hill
[powerpress_subscribe]
FOH is hosted, written, and produced by Chris 'Henri' Henrikson and Danny Sjursen
Intro / outro music "Fortress on a hill" written and performed by Clifton Hicks.  Clifton's Bandcamp page; Clifton's Patreon page
Thanks to Nate Bethea from What A Hell of a Way to Die for editing and mixing this episode
Cover and website art designed by Brian K. Wyatt Jr. of B-EZ Graphix Multimedia Marketing Agency in Tallehassee, FL
Note: The views expressed in this podcast are those of the hosts alone, expressed in an unofficial capacity, and do not reflect the official policy or position of the Department of the Army, Department of Defense, or the U.S. government.
Update Required
To play the media you will need to either update your browser to a recent version or update your
Flash plugin
.
Download audio file