Air date:
Wed, 07/11/2018 -

8:00pm

to

10:00pm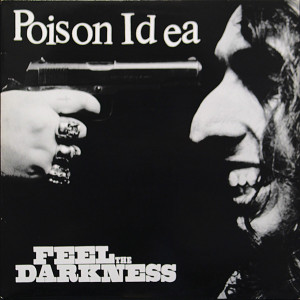 Jerry stops by to preview Poison Idea's one-night only concert reunion for the classic "Feel The Darkness" and the deluxe re-issue of the release !
UPDATE : Oh no! Sorry folks! I misunderstood. Jerry will be coming down to preview the new version of "Feel The Darkness" and talk about the show this Wed. 07/11, but the band won't be playing it live on-air. But you can quell your disappointment by listening to PI's last ever radio performance from my program on May 2016 here :
https://www.kboo.org/media/49532-poison-idea-returns-perform-live-drinki...
Sgt. Peppers.., Exile..., Dark Side..., Nevermind. Albums so iconic, that you probably know what bands are being referenced without their name, or in some cases, even the whole title of the work. Records that made the music world pay attenton. 

Well back in 1990, (when sonic-dreck like Phil Collins,  MC Hammer, New Kids On The Block and Milli Vanilli were out-selling every one else) Portland's long-time Punk pioneers Poison Idea, put out a record that is every bit of a touchstone in the Punk World orbit as those more well known masterpieces are for mainstreamers. Feel the Darkness with it's audio explorations (a piano intro!), unbelievable metal-tech musicianship and in-your-ear attitude proved that PI were without a doubt, the legitimate and very real "Kings Of Punk". There was no other record like this one, and your band was nowhere near this good!
Twenty-eight years later it remains as powerful a statement as it did at the time, and is now getting the deluxe reissue treatment, with a one-time live concert release party at The Bossanova Ballroom on 07/21/2018. In addition, I am honored and excited to have the resurrected Poison Idea (with founder Jerry A.) perform a special preview for you on this Drinking From Puddles for 07/11/2018 !!  Yeah, in actuality...Feel The Darkness turned out to be the real U Can't Touch This !!  --Brandon
Update Required
To play the media you will need to either update your browser to a recent version or update your
Flash plugin
.